The Liquid Side
Most beer lovers, and especially homebrewers, dream about having a dedicated kegerator set up to serve beer from kegs. There are lots of benefits to serving from kegs: convenience (most homebrewers can fill one keg rather than 52 bottles) . . . and it's pretty badass to pour your beer from a tap.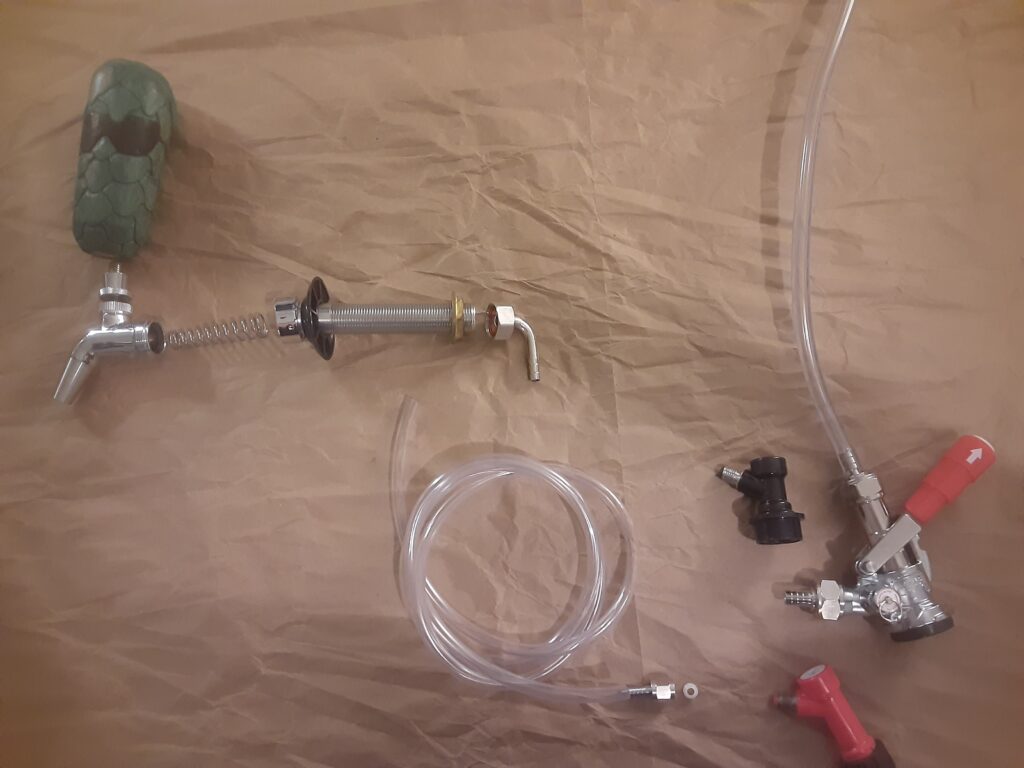 In this article, I'm going to walk through the components you'll need to set up the liquid side of a draft (draught) system. This is a list of the components, and I'll flag specific components that may come as different types or sizes so you can use this list for any system. The links to components I personally like are affiliate links, but you can find a wide range of options, prices, and sellers for similar items.
I am not going to discuss kegerators vs converted chest freezers vs refrigerators. This is just about the parts you need to get beer (or other liquids) from the keg to the faucet where it can fill your glass.
What You See
When you set up a draught system, the liquid side has the components you usually see. Most people only notice the tap handle and faucet you use to actually pour the beer, but you also see the front part of the shank. Let's see what's in store: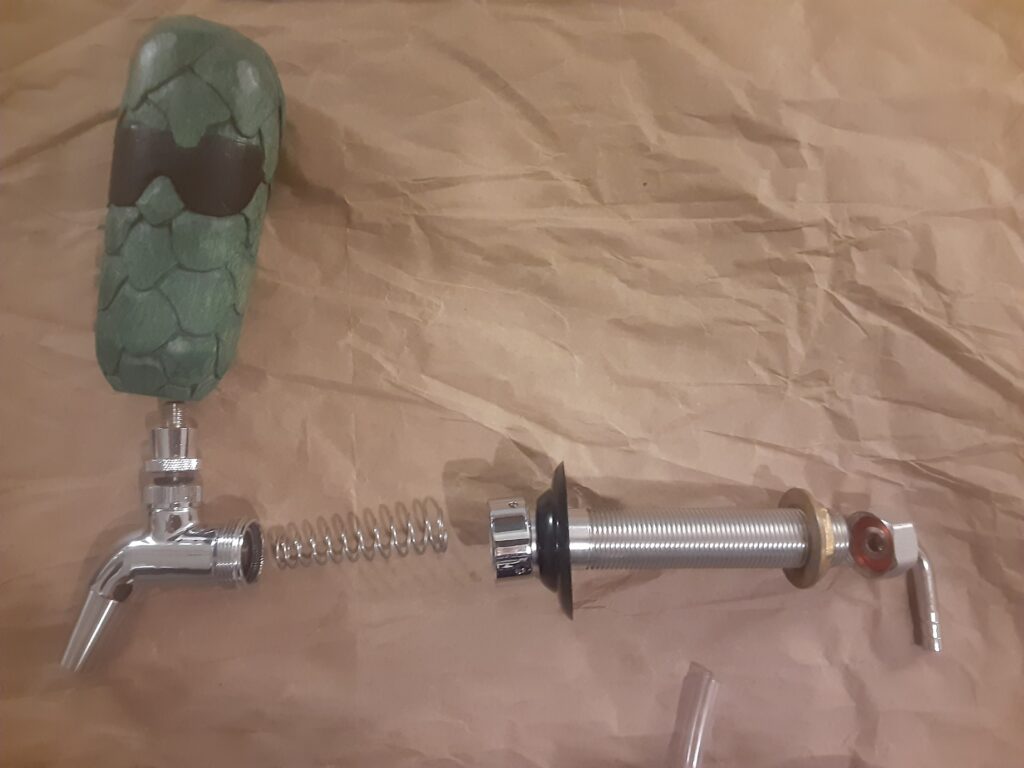 The Hidden Pieces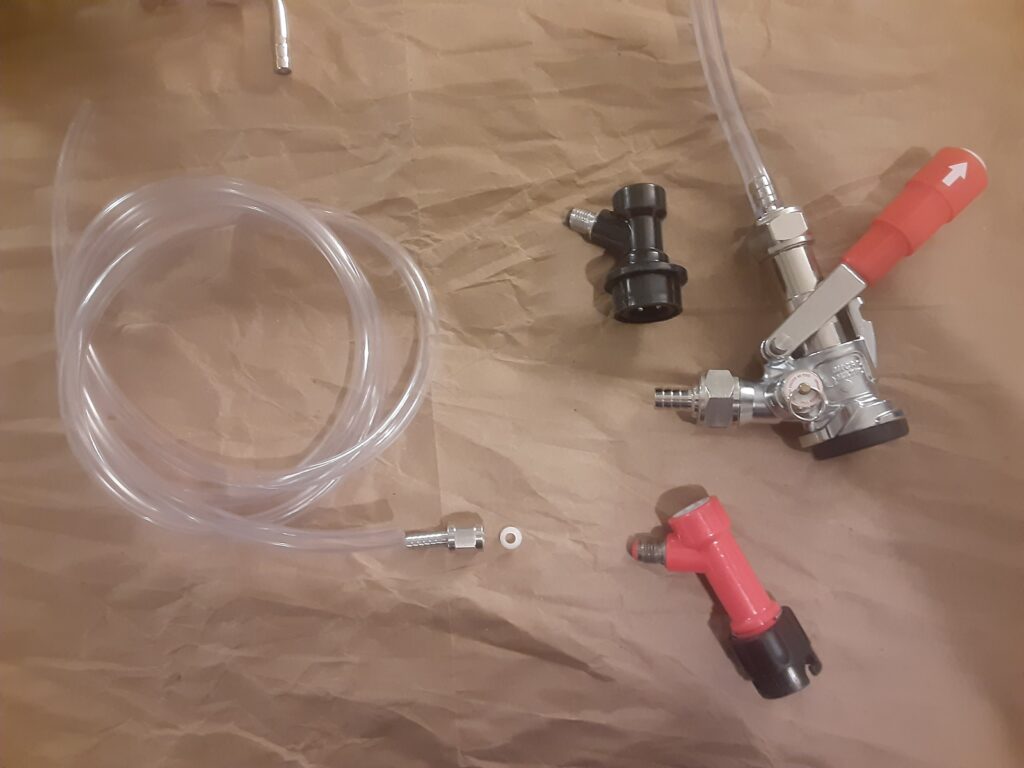 The Plan
You will want to put some thought into the type of system you build. Whether you will be building a system to accommodate sanke, ball lock, or pin lock kegs. Most people pick one type and stick with it. If you are setting up a commercial bar or just want to keep commercial beers on tap, you will probably be going exclusively with sanke QDs, because that is what virtually all breweries use.
Homebrewers have more options. Many homebrewers I talk with pick either ball lock or pin lock kegs and stick with that type of keg no matter what. I own both ball lock and pin lock kegs, so I set up all my lines with ¼" MFL nuts and purchase MFL threaded quick disconnects so I can swap them out as needed for pin lock, ball lock, or sanke kegs.
Whatever you decide, you'll be able to put together a great home draught system. If you have specific questions, please send me a message and I'll either get the answer, whether it's something I know or need to do a little research.
#BrewUpAnAdventure
Component List with Affiliate Links
Intertap Forward-Sealing Faucet – https://www.homebrewing.org/Intertap-Stainless-Steel-Forward-Sealing-Faucet_p_7049.html?AffId=337
Intertap Self-Closing Spring – https://www.homebrewing.org/Self-Closing-Faucet-Spring-for-Intertap-Faucet_p_7058.html?AffId=337
Shank – https://www.homebrewing.org/4-in-Stainless-Steel-Intertap-Faucet-Shank-_p_7057.html?AffId=337
Tailpiece – https://www.homebrewing.org/Bent-Brass-Tailpiece-316-ID_p_4024.html?AffId=337
3/16″ Beer Tubing – https://www.homebrewing.org/316ID-x-716OD-Thickwall-PVC-Beer-Line–Per-Foot_p_820.html?AffId=337
Ball Lock Quick Disconnects – https://www.homebrewing.org/Kegerator-Homebrew-Conversion-Kit_p_720.html?AffId=337
Pin Lock Quick Disconnects – https://www.homebrewing.org/Pin-Lock-Kegerator-Homebrew-Conversion-Kit_p_4080.html?AffId=337
Stainless Steel Sanke Coupler –https://www.homebrewing.org/D-System-Coupler-Stainless-Steel-Sanke_p_3573.html?AffId=337
Amazon Affiliate Links
Intertap Forward-Sealing Faucet – https://amzn.to/3hdHf9L
Intertap Self-Closing Spring – https://amzn.to/3nAs3FI
Shank – https://amzn.to/2J46bUr
Tailpiece – https://amzn.to/2WvkFj6
3/16″ Beer Tubing – https://amzn.to/34tREsv
Ball Lock Quick Disconnects – https://amzn.to/3nxJkzA
Pin Lock Quick Disconnects – https://amzn.to/37sU8cD
Stainless Steel Sanke Coupler – https://amzn.to/3aixB46